There are a lot of reasons why you might be looking into bathroom remodeling. Maybe you're wanting to update your current bathroom because it's looking a little outdated, or maybe your family is growing and you need more space. No matter the reason, a bathroom remodel can completely transform the look and feel of your bathroom.
Your bathroom is one of the most important rooms in your house, so you want to make sure it is perfect. But how do you know who to trust to remodel your dream bathroom? With so many contractors out there, it can be hard to know who to choose. In this article, we will give you some tips on how to select a contractor for your bathroom remodel in Des Moines, IA, or wherever you are located.
Check references and reviews.
When considering any contractor for your bathroom remodel, always check their references and reviews. Ask to see a portfolio of their previous work and contact some of their past clients. You can also check with the Better Business Bureau or online review sites like Yelp to get an idea of the quality of their work. If they have any complaints filed against them, that is definitely something you will want to know before hiring them.
Look at portfolios
When looking at portfolios, consider the contractor's range of experience with bathroom remodels. You want to make sure they have a lot of experience and can provide you with examples of their work, including the skilled installation of vanities, sinks, bathtubs, and showers. You might also want to see if they offer services for light fixtures and plumbing. Additionally, be sure to ask the contractor questions about their process for bathroom remodels and home repairs. They should be able to give you a comprehensive overview of what will happen during the project and what steps they will take to ensure everything goes smoothly.
Make sure the contractor is licensed and insured
When hiring a contractor for your bathroom remodel, you need to make sure that they are licensed and insured. This ensures that you are working with a qualified professional who has the necessary experience and credentials. It also protects you in the event that something goes wrong during the remodel.
Get an estimate
You'll want to get a written estimate from the contractor specifying the work that will be done, the materials that will be used, and the cost. This will help ensure that both you and the contractor are on the same page and that you won't be surprised by any additional costs down the road. It's also a good idea to check with your local municipality to see if there are any specific permits or licenses that the contractor will need to obtain in order to complete the work.
Ask questions if something is unclear
If something about your remodel is unclear, it's important to ask questions. This will help ensure that there are no misunderstandings when it comes time to select a contractor. Specifics about what is wanted in the bathroom remodel should be discussed, as well as timelines and budget restrictions.
Follow up with the contractor during the remodel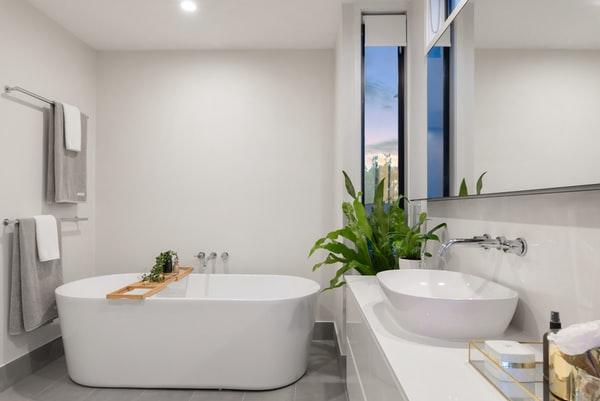 The contractor you select for your bathroom remodel should be someone you feel comfortable working with and who is responsive to your needs. During the remodel, be sure to follow up with the contractor regularly to ensure that the work is proceeding as planned and that any questions or concerns you have are addressed. If there are any changes to the scope of work or budget, make sure these are documented in writing so that there are no misunderstandings down the road.
When deciding to remodel your bathroom, it is important to select the right contractor for the job. By taking into consideration the overall scope of the project, as well as the contractor's experience and references, you can be sure to find someone who will complete the job to your satisfaction.